Safeguarding at Elmsleigh Infant and Nursery School
Safeguarding underpins everything we do at Elmsleigh Infant and Nursery School and is the golden thread that is woven into our school vision, ethos and values.
Safeguarding is ensuring that every child is safe from harm – safe from bullying, people who could abuse, discrimination or harassment so that every child feels safe at Elmsleigh.
Safeguarding is everyone's responsibility. At Elmsleigh, every member of staff is very committed in playing their part to keeping children safe and promote the welfare of children. All of our staff have a clear understanding about abuse and neglect in all forms. They have received training about how to identify, respond and report, including what to do in the process of allegations against professionals.
We have two Designated Safeguarding Leads at Elmsleigh:
Karen Burton
Headteacher (DSL)
Tina Arckless
Pastoral Lead (Deputy DSL)
To ensure that Elmsleigh keeps children safe, we have a Safeguarding Policy and procedures in place. Parents and carers are welcome to read the Policy on request.
Sometimes we may need to share information and work in partnership with other agencies when there are concerns about a child's welfare. This is as a supportive role for parents and may involve members of our FASST Team, Early Help Advisors, the school nurse or social workers. If DSL's do have a concern, working in partnership with other agencies is the best way forward.
We will ensure that our concerns about our pupils are discussed with his/her parents/carers first unless we have reason to believe that such a move would impact on the child's welfare. If a member of staff is concerned about a child's welfare, they will record their concern, and any observations or conversation heard, and report via 'My Concerns' to one of the DSLs as soon as possible the same day.
If a member of staff has concerns which relate to the actions or behaviour of another member of staff (which could suggest that s/he is unsuitable to work with children) then this will be reported to one of the SMT immediately and the 'Managing Allegations' guidance would be followed.
Our approach is very child-centred and the 'child's voice' is at the heart of everything. We will actively seek to promote and support the child's needs and wishes.
FASST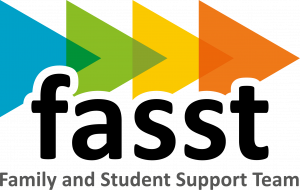 The FASST team are a team of dedicated and skilled Family and Student Support Workers based at Esteem academies, such as Elmsleigh, across Derbyshire, Derby City and Staffordshire. We are part of Esteem Multi-Academy Trust; and while safeguarding is at the core of our provision, we are not a specialist safeguarding and child protection service.
For more information please visit https://www.fasst-esteem.co.uk/ 
Online Safety
We recognise that the internet is an amazing resource which enables children and young people to connect, communicate and be creative in a number of different ways, on a range of devices.
For any information on online safety, please follow the link below.
As part of our commitment to online safety we are currently using the 360 safe review tool
Out of Hours Safeguarding Support:
Starting Point (for all Safeguarding concerns) Telephone: 01629 533190

NSPCC – National Helpline Telephone: 0808 800 5000

Childline Telephone: 0800 11 11
Online issues or exploitation contact Child Exploitation and Online Protection Agency (CEOP) https://ceop.police.uk/safety-centre    
Advice, support and how to report if you suspect that a young person is at risk of Child Sexual Exploitation –http://knowaboutcse.co.uk       
Advice, support and options if you or someone you love goes missing or runs away- 24 Hour Anonymous Helpline Text or Call 116 00
Governor with Responsibility for Safeguarding: Mrs R Rayner
Starting Point (for all Safeguarding concerns) Telephone: 01629 533190
NSPCC – National Helpline Telephone: 0808 800 5000
Childline Telephone: 0800 11 11